I think either Hell has frozen over or Pigs are flying! A few times during the year (usually after busy season or a catastrophe), a couple of managers will walk around thanking everyone for the work they have done. Sometimes they give you a memento to show their Thanks; usually it is not worth much. During the years I have worked at my current job I have been given juggling balls, Squish balls, water balls (you soak them in water before throwing), a yo-yo (it was supposed to light up), a plastic calculator (did not work) and yadda yadda yadda……. Well, I could go on and on but I don't want to bore you. Basically we got items you can buy cheap and in large amounts. Each year, the Thank You's have been fewer and further between. Well today made up for ALL of those previously crappy toys.

Today I was given one of these……





Yep! That is an iPod Shuffle!! And it is all mine!!!! I cannot wait to use it. I was so excited when I opened it. I had to beg a couple of co-workers to open their box (they came in a brown shipping box). People thought it was just another lame toy. I would have never have purchased one of these on my own. Of course, now I have to buy a new computer as it only works on Windows XP….and do I have Windows XP? NOPE!!!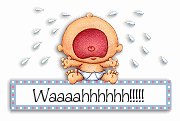 Well I can tell you all that it sure does look real purty sitting in its box.