I have been blogging for quite a few years. I have noticed some changes over the years now that everyone seems to be blogging. I remember when I first started my blog, I was told that if you wanted people to visit your blog then you needed to comment on other blogs. I remember old time bloggers always returning the favor by stopping by my blog to say hello. Bloggers now-a-days don't seem to do this – well not that often. Sadly, I too have been guilty of not commenting when stopping by a blog or visiting those that comment on my blog as often as I used to.

Another thing I remember was trackbacks (or backlinks as they are called in Blogger). Trackbacks are another way to show other bloggers the blogging love. I love leaving trackbacks. I used to do it more often but lately I am lucky if I even have time to post on my own blog.

Trackbacks is when you post to your blog and someone else posts to their blog about your post (and includes the link). This other person's post will appear (title and summary) on your original post by the comments, if you have trackbacks/backlinks enabled (I love when people have them enabled). It is so cool to see other people talking about you and it makes me feel good letting people know I am talking about them too. :) And heck it is cool if people visit your blog because of a trackback you left on someone else's page.

Since Blogger never had the trackback ability in the past, I was never able to see if anyone actually liked me enough to write about me. Now isn't that sad? But now that Blogger has backlinks it is so cool to see.

For an example of how a trackback/backlink looks on a post go here. Look down at the bottom under the comments. See the links? Click on the arrow. See the summary? How cool is that?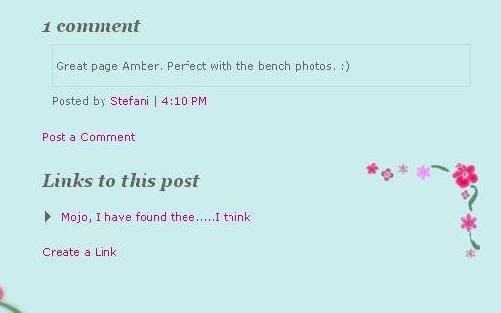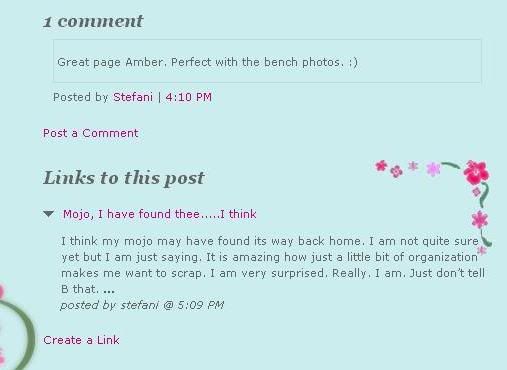 Oh and if I edited my template right you should see a trackback link on this post as well.

If your blogging software does not allow you to leave a trackback you can use online trackback forms like this one.

****edited****** Oh and I forgot to tell you all about Technorati. Do you know about it? It is not just a blog search but you can also enter your blog address and see everyone who is linking to you. You may be surprised who is advertising your blog. *****edited******